HCC-Embedded USB Stack Middleware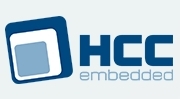 Does your eCos-based embedded device require USB functionality? The HCC USB stacks are optional middleware components for eCos that enable USB functionality to be incorporated into your design with the minimum of effort. The stacks are high quality, small footprint, yet featureful implementations of the universal serial bus standard protocols and classes.
The HCC offering covers both host and device stacks, as well as OTG extensions enabling dual role devices that can swap between master and slave operation.





Common features of HCC USB stacks
Complete USB Host, Device and OTG software solutions
Comprehensive set of Class and Function drivers available
Control, bulk, interrupt and isochronous transfers
Complies with both USB 1.1 and 2.0 standards
Supports all USB 1.1/2.0 transfer rates: High-speed (480 Mb/s), full-speed (12 Mb/s) and low-speed (1.5 Mb/s)
OTG support, including OTG ID pin recognition and SRP and HNP protocols
Fully portable between different CPU architectures and USB controller/device implementations
Small memory footprint
Full ANSI C source code included
Royalty free licensing
Host class and Device function support
MST (Mass Storage)
HID (Human Interface Device: mouse, keyboard, joystick and generic device support)
CDC-ACM (Virtual serial, variants also available to support FTDI)
CDC-ECM (Ethernet)
CDC-RNDIS (Network card emulation)
MTP (Media Transfer Protocol, Pictbridge add-on also available)
PTP (Picture Transfer Protocol, Pictbridge add-on also available)
Audio
MIDI
PR (Printer)
RFI (Reliable File Interface, HCC proprietary)
EP (Embedded Pipe - HCC proprietary simplifying access from windows)
Hub (host stack only)
HCC's EUSBH (Embedded USB Host) Stack
The host stack features a compact code footprint of less than 16KB with an associated data requirement of less than 10KB. It fully supports OHCI and EHCI host controllers and can be ported to non-standard controllers where required. The stack has been ported to many different architectures and processor families including ARM, Cortex-M3, ColdFire and PowerPC. It includes a root hub class and port manager as standard, and wide range of additional host class support can be added to meet your product's requirements.
EUSBH host stack architectural block diagram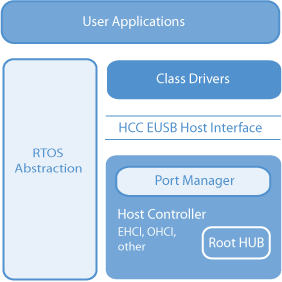 HCC's EUSBD (Embedded USB Device) Stack
The device stack can support the entire range of user requirements, from a simple single function devices to a complex, multi-interfaced composite devices. The base system can be used to create custom drivers, or it can be extended with a wide range of existing device function class modules.
EUSBD is delivered with a graphical device descriptor configuration tool (DESCGEN) for easy creation and manipulation of USB device descriptors.
EUSBD device stack architectural block diagram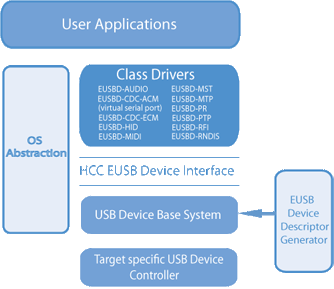 Supported SOC's and USB Devices
Atmel: AT91SAM7xxx, AT91SAM9xxx, SAM3S, SAM3U, AT91RM9200, AVR32
Freescale: imX2x/3x/5x, JM60/128, MPC834x
Freescale: MCF52xx, MCF5222x, MCF53xx, MCF54xx
Maxim: MAX3421E
Microchip: PIC24, PIC32
NXP: ISP1161, ISP1183, ISP1361, ISP156x, ISP158x, ISP1761
NXP: LPC11xx, 13xx, 17xx, 2148, 2368/78/88, 2468/78, 28xx, 29xx, 31xx, 32xx
Renesas: SH72xx
ST: STR7xx, STR9xx, STM32F1xx, STM32F2xx
TI: MSP430, Stellaris, DSP 5509A, 6457
Note that the USB controller and device hardware on existing eCosPro target platforms may not necessarily be currently supported by EUSBD, and eCosPro does not necessarily support all EUSBD supported targets. Consult the HCC website for the latest list of EUSBD supported devices, and the eCosPro Board Support table for the latest eCosPro targets. New device and controller hardware support can be added upon request.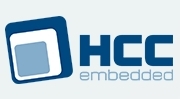 eCosCentric supplies the full range of HCC-Embedded stacks and associated services. For information regarding eCosPro USB solutions, including pricing, and any technical or commercial issues, please contact us for a detailed discussion.