eCosCentric introduces v3.1 of the eCosPro Developer's Kit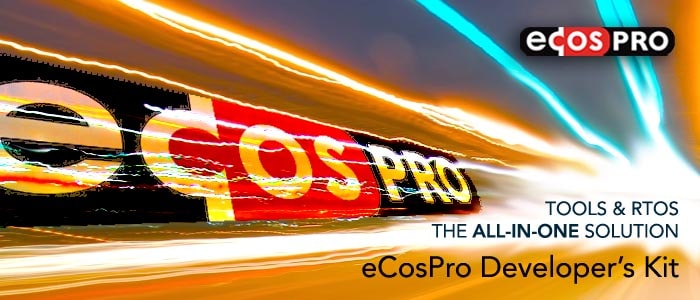 SAN JOSE, USA -- May 3, 2011 -- eCosCentric Limited, the eCos and RedBoot experts, today announced a significant update to the eCosPro Developer's Kit. The new 3.1 release focuses on upgrading and enhancing the cross development environment, tools and range of supported hosts. This has resulted in major improvements to ease of use, productivity and functionality.
"This update brings major advances in the compilation and development tool infrastructure, polishing the environment that engineers use on a daily basis to build eCosPro based applications" said Daniel Morris, Sales and Marketing Director at eCosCentric.
eCosPro's Eclipse-based IDE has been updated to the Helios SR1 release. This incorporates numerous enhancements such as the new DSF-GDB debug framework that improves overall responsiveness along with multi-threaded debugging improvements, enhanced editor with error message hot-linking direct to relevant source line, GUI enhancements, and many other features.
The eCosPro Eclipse extensions have been completely revised to simplify and streamline eCos application development. Application projects within Eclipse can now be associated with an eCos Configuration Project. This allows eCos to be built directly within Eclipse and provides seamless management of dependencies between RTOS configurations and application projects. The new Profiles feature enables Eclipse and the eCos Configuration Tool to automatically determine which eCosPro version, target platform and build tools to use. The selected Profile is used by application projects to completely remove the need for manual project configuration.
The eCosPro Developer's Kit can now be installed and used on a much broader set of Windows and Linux hosts. In addition to Windows XP, Windows 7 support has been added, including both 32 and 64 bit variants. Linux host support now covers Ubuntu, openSUSE, Fedora and Red Hat Enterprise Linux, with both 32 and 64 bit versions of most distributions supported.
The included GNU compiler toolchains have been updated to version 4.4.5 for most architectures. On Windows hosts these are now provided as native tools, delivering an up to four fold increase in compilation speed when compared to the previous Cygwin based tools.
eCosPro's documentation has been significantly overhauled to provide better presentation, organisation and navigation. The Eclipse documentation has been expanded and improved, including an example walk-through - starting from creating a new eCos configuration project, to running and debugging the application on real hardware.
The installation system has been completely revised enabling modular updates to the compilation tools, IDE, and eCosPro distributions. Development hosts can now easily support multiple concurrent target architectures and boards.
Version 3.1 of the eCosPro Developer's Kit is shipping now for select ARM, PowerPC and MIPS targets, with NIOS II and ColdFire shipping later this month. eCosPro currently supports twelve major architecture families and over seventy public hardware platforms. Over the coming months updated 3.1 based releases for these targets will be rolled out, along with new target platforms.
About eCosPro

eCosPro is a stable, fully tested and supported version of the eCos open source real-time operating system and RedBoot bootstrap firmware. The eCosPro Developer's Kit is a distribution of eCosPro with commercial support & advice, prebuilt eCos host tools, compiler tool chains, full documentation, Eclipse-based integrated development environment to streamline eCos application development, C++ runtime (including Standard Template Library) as well as profiling, code coverage and memory allocation debugging tools. Middleware components certified with eCosPro include a Java virtual machine, an in-memory database, graphical user interfaces, security libraries, CANopen and USB compliant host, device & OTG stacks and flash file-systems.
For further details visit http://www.ecoscentric.com/ecospro.shtml , contact eCosCentric or call at stand #2319 at the Embedded Systems Conference - Silicon Valley 2011.
About eCosCentric

Founded in April 2002, eCosCentric is the leading provider of eCos and RedBoot support, training, development and consulting services worldwide. Staffed by the original eCos creators and highly experienced embedded system and software engineers, eCosCentric provides complete solutions consisting of run-time systems, complementary host tools and certified third party applications.
eCos, eCosCentric and eCosPro are registered trademarks of eCosCentric Limited. Linux is a trademark of Linus Torvalds. All other company or product names mentioned herein are trademarks or registered trademarks of their respective owners.